This page will hold those that were here and gone on now. Each was loved dearly and never forgotten.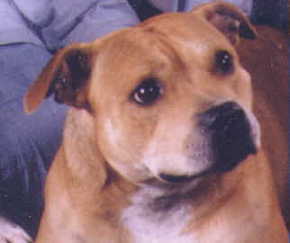 Am/Can Ch Trugrip Double Decade A/C CD 
He Started it all!!!
Decker was owned and trained and handled by his junior handler Miranda Heimbuch. He was a real ambassador for the breed. He made trips to schools when it was pet week and nursing homes when the weather kept the elderly indoors. He was the all around family dog
. He will forever be missed!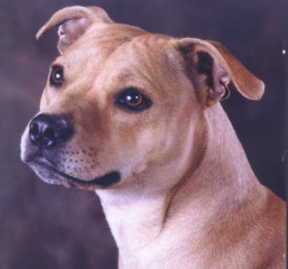 Am/Can Ch Trugrip Lasting Joy
Joy called Joey by her owners and friends. Joey was quite the lady. She was more like the princess. She started her life with my eldest daughter and lived many years with her. She came home to me when my daughter moved where she couldn't go. That lasted all of one weekend when my mom showed up for a visit Joey decided she should go with her. Off she went and spent the next many years sleeping on her bed. good bye old girl … I am sure there is a velvet pillow for you in heaven!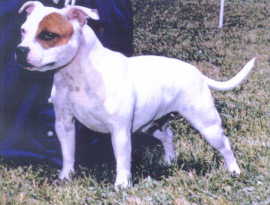 Am/Can Ch Trugrip Mannstaff Snow Angel
Angel was the first bitch to go Top Dog with the SBTCA. What can be said of Angel – she was a true showman. Many years have passed and we still talk about how she would bark at the judge if he passed her by. When he would turn to look she'd have a big grin and tail wagging. I am sure if there are dog shows in heaven she is at the front of the line.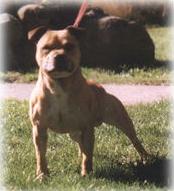 Am/Can Classy Staffys Rock N Roll A/C CD
 Rocky held loads of first for us. He was our first homebred champion. He was always handled by his then junior handler Noelle Nelson. She put all his titles on him and kept him in the top 5 with limited showing. It was with great sadness the day this old boy closed his eyes for the last time. He is seen in all his kids and grandkids. His soft demeanor was laid to rest when challenged by another dog.
---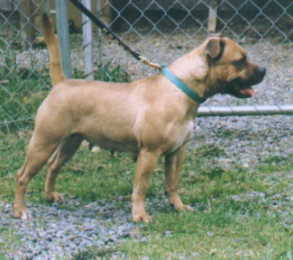 Am/Can Ch Classy Staffys A Lucky Roll
Dice as she was known by her friends was a friend to all humans but she would not tolerate other dogs including some who were housemates. You were always on your toes with this one. She was our second homebred champion. She was always handled by a junior handler. She is dam to several champions and obedience title holders with limited breeding.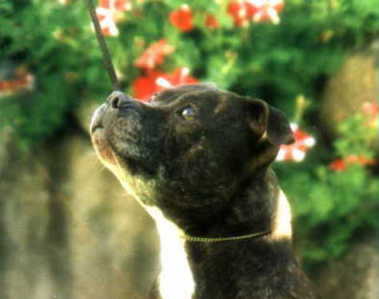 Jasmine my sweet girl. Always the lady. Always the teacher to the young dogs. Raising puppies is not the same without you old girl.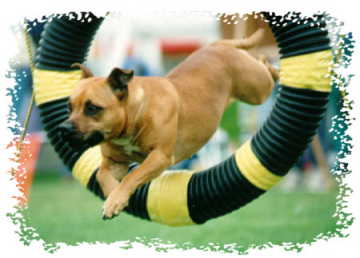 Am/Can Ch Classy Staffys Pardon Me Boys
Dolly was owned and trained by her handler Elinda Anderson. Elinda's daughter came to me for a dog and she took home Dozer. Goodness Elinda was not sure this was a good idea after all that meant two of those dogs would be in the same 4-H group. Well little did she know that in time she'd be wanting one of her own. Dolly achieved many titles 
for Elinda. She was her first owner handled champion. Then she went on to knock the socks off the agility world showing everyone agility was not just for Border Collies.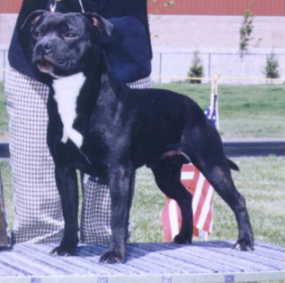 Ch Dumbriton Berlscarg The Director
Tommy was a wonderful show dog. He started his career being handled by Noelle Nelson who guided him through his paces with expertise. He later went to a handler who really need not be there as Tommy knew what to do and how to do it. He showed himself. He produced only one litter. From that he produced 2 champions and one female who was almost finished when she died suddenly. Some great show dogs never leave enough behind when they are gone.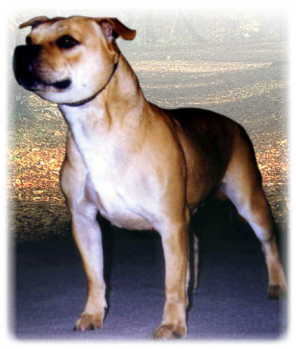 Ch Classy Staffys Warrior Xena
Xena was a good dog to live with. She was the daughter of our Rocky and a bitch from us called Tailor. Although we had only Xena and from her we had only 1 bitch Satin it was so worth it. You say if you can only have one let it be a good one and she did that with Satin. Her many grandkids later tell me she was worth every thing!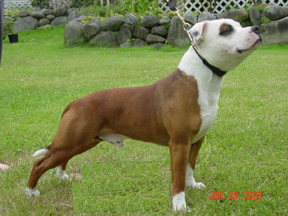 Ch Praetorcanis Apocalypse Now
Sometimes you are blessed with a great dog. It seems those that are the best leave far to soon. Rebel was this for me. Although he left behind Bonnie and Clyde thanks to his mating to Satin I will always long for another one like this one. He had it all – attitude, looks and a way of saying 'hey look at me'. I was so sad at his short life after he drowned in my brothers pool. He was a once in a life time dog and my heart skips a beat whenever I see his picture. We have high hopes for his double grand-daughter to be our next super dog. Watch the show ring in 2009 for 
CH Classy Staffys America's Most Wanted. (2010)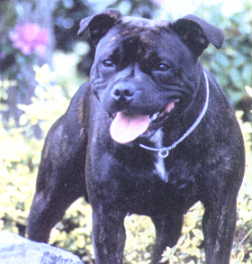 REBA
What a great little dog she was. Life was way to short! Reba was owned.trained and handled by Dawn Burkenbine.
---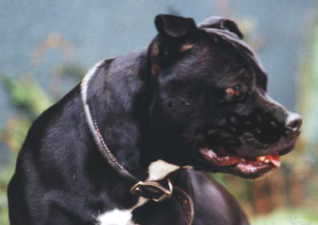 Am/SA/Can Ch Crossbow's Final Justice "GUY"
My best buddy! Called "little guy" from day one. He was my constant companion and the joy in my life. He is the sire to Satin and was her companion until he died. He told her every morning 'I'm still your dad even if you don't think so'. He made history being the first American bred import to South Africa to recieve his SA championship. You are forever missed "little guy"!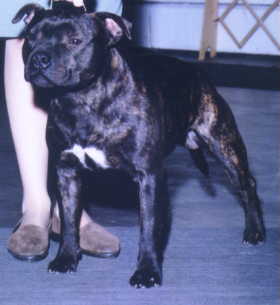 Ch Eppstone's Sombra Cuba Varon "Poncho"
Poncho cemented a friendship that has been more than just a dog world thing. Val Epperson was Poncho's breeder. She sold this great little dog and he shifted hands ending up in a place that said he was aggressive. Silly I said let me bring him home and test him. Thus a friendship began. This great dog got 3 championships in one year. He lived a life of a king in a world of many dogs. He had his favorites and he was really one of my favorites. I still smile when I think of him winning his Group 2 and the screams that came from Val and I. He was super man! Thanks for sharing him with me Val.
---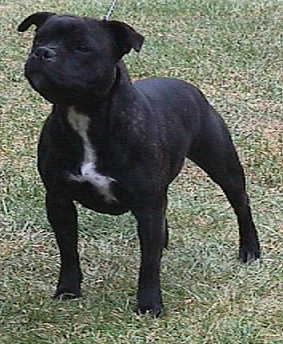 Ch Classy Staffys Keep Sake
Satin is the only daughter produced by our Xena x Guy, She was a naughty girl that made me laugh everyday. She entered the showring with me as handler. We won lots but my illness caused me to give up handling and I hired Delores Dills. Oh she was naughty to poor Dee. Always challenging her and pretty much a handful. When she finished her championship I brought her home and said be naughty here. Satin produced a number of champions but most noteable is
BISS Ch Classy Staffys Strike Force
. She was a great dog as well as producer and her kids are proof of this as they have now produced our next generation of Classy Staffy champions. Her sudden death was such a shock. I miss her everyday.
---
Ch Classy Staffys Whodaknown "Jack"

Jack the serious one in the ring

Jack's major accomplishments are he made his championship. LOL This is a pied dog with outstanding characteristics that judges seemed confused by. Those that liked him didn't hesitate to give it to him. BUT it was hard to find judges that understand that white beautiful head shape, his compact body threw them too. Jack is not a big dog standing just 15.5″ and weighing around 37#. he has a most loving and easy going temperament. He is the sire of just 3 get at this time but all 3 are champions. 2 of these are champions.