Classy Staffys Presents
Waystaff Strikes Back
Sire:BISS Ch Classy Staffys Strike Force
Dam: Waystaff Going Dutch JW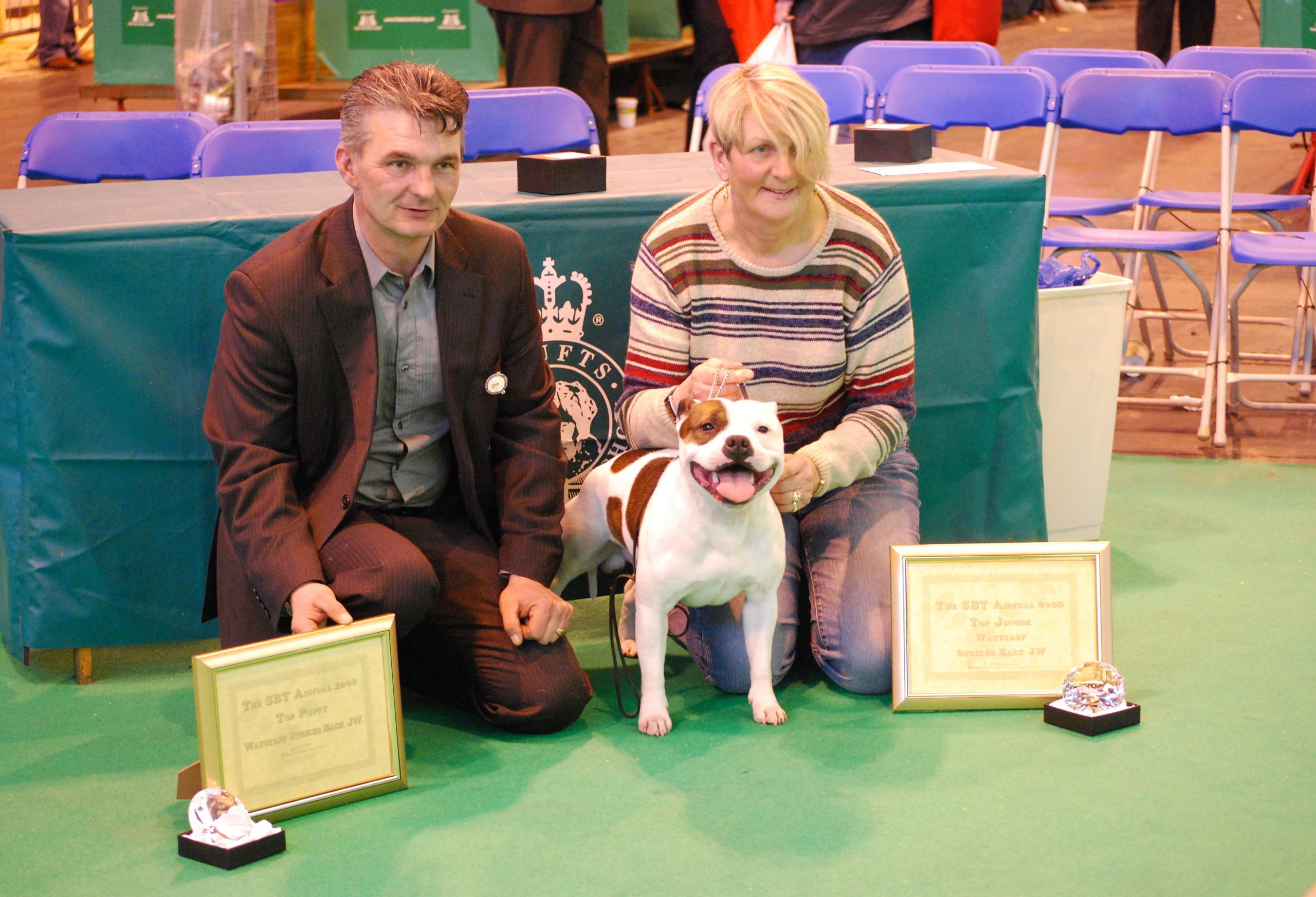 Dexter seen here with breeders/owners Paul & Liz Stanway winning Top Puppy Dog as well as Top Junior Dog 2008
Dexter just received his third CC. Way to go Dexter. 2 RCC's added to this tells me Dex is the dog to watch! Dexter is the Top Dog in 2009. Continued Good luck is sent to Paul and Liz and Dexter.
I would say his biggest achievement is being alive after I left UK! He is the most busy little dog you can imagine. He is always tormenting someone. If he is stretched out you better check him as I am sure he is SICK.
He is such a well put together dog. He is the proper size and shape for a dog. He is strong and athletic like a well tuned athlete. He is winning on a regular basis. Taking CC as well as BOB placements. As I type this Dexter has been awarded Top Puppy dog and Top Junior Dog in the UK for 2008. He is the Top Dog in UK for 2009. He has received several BIS wins. The word between those that know him is Liz and Paul Stanway have a top winner. Keep it up Dexter – we are very proud of you and have our fingers crossed you do well for years to come. Good luck Liz he deserves to be in the top winners.
Watch for Dexter kids to hit the USA sometime soon!! Check our planned breedings page for updates.
Pedigree

Parents

GrandParents

GreatGrandParents

SIRE

BISS Ch Classy Staffys Strike Force

 Ch Praetorcanis Apocalypse Now (SA)

SA Ch Riefra True Courage Of Praetorcanis

SA Ch Riefra Jenny Lee Ann Of Praetorcanis

Ch Classy Staffys Keep Sake

Am/SA Ch Crossbow's Final Justice

Ch Classy Staffys Warrior Xena

 Waystaff Going Dutch JW

Northpoints Dutch Courage at Waystaff JW

SA Ch Rikarrystock Demolition Man

Distant Crimson Pepper

Ch Elvinor Pied Princess at Waystaff

Elvinor Morgan The Mighty
Judeal Lucky Leoni at Elvinor