Jack and Satin have 2 beautiful boys !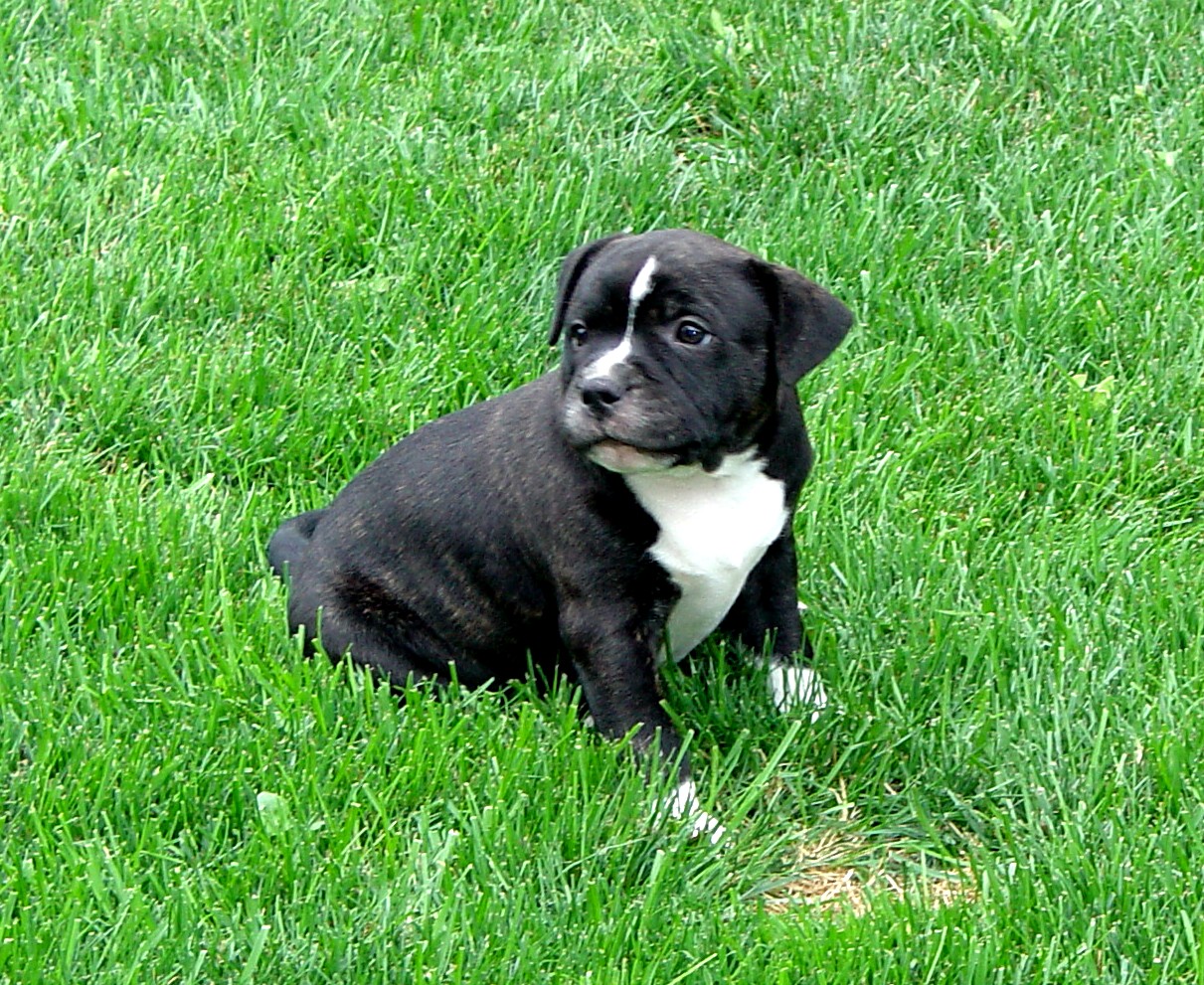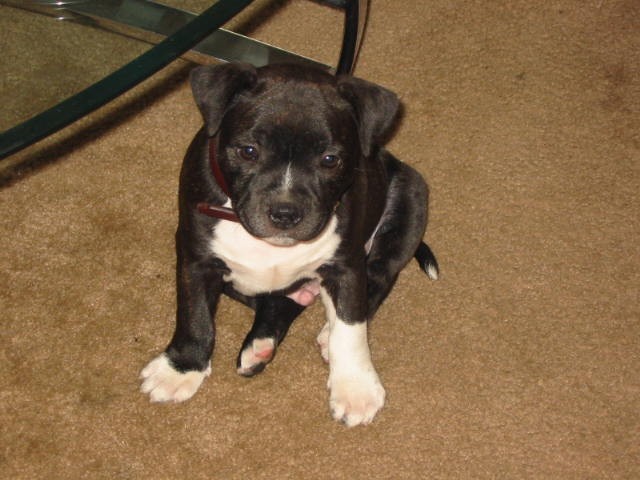 Classy Staffys Celebration Time         Classy Staffys Hot Shot 
     

 "Henry"

                      9 weeks 
            "Deuce"
I am happy to say that both these boys are in wonderful homes. Deuce has stayed close to home living in Tacoma, Wa. while Henry has a wonderful family in Maryland. We are happy our puppies have such wonderful new homes.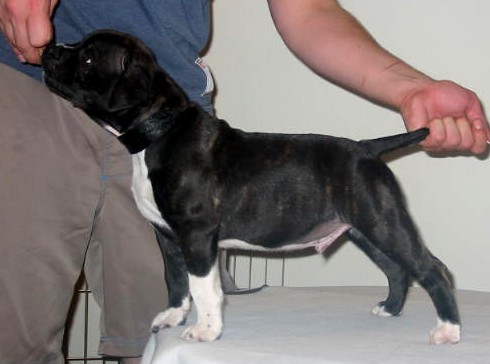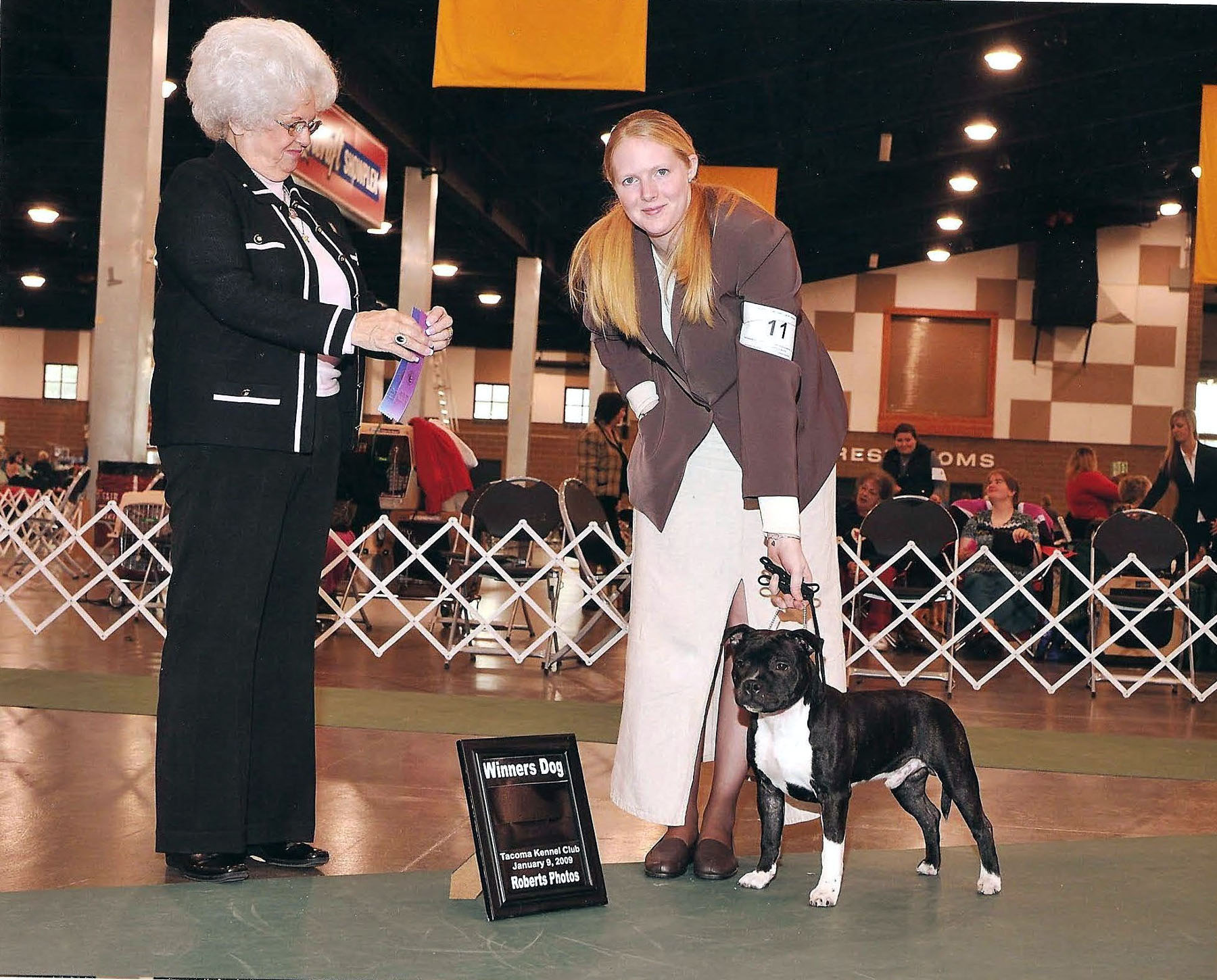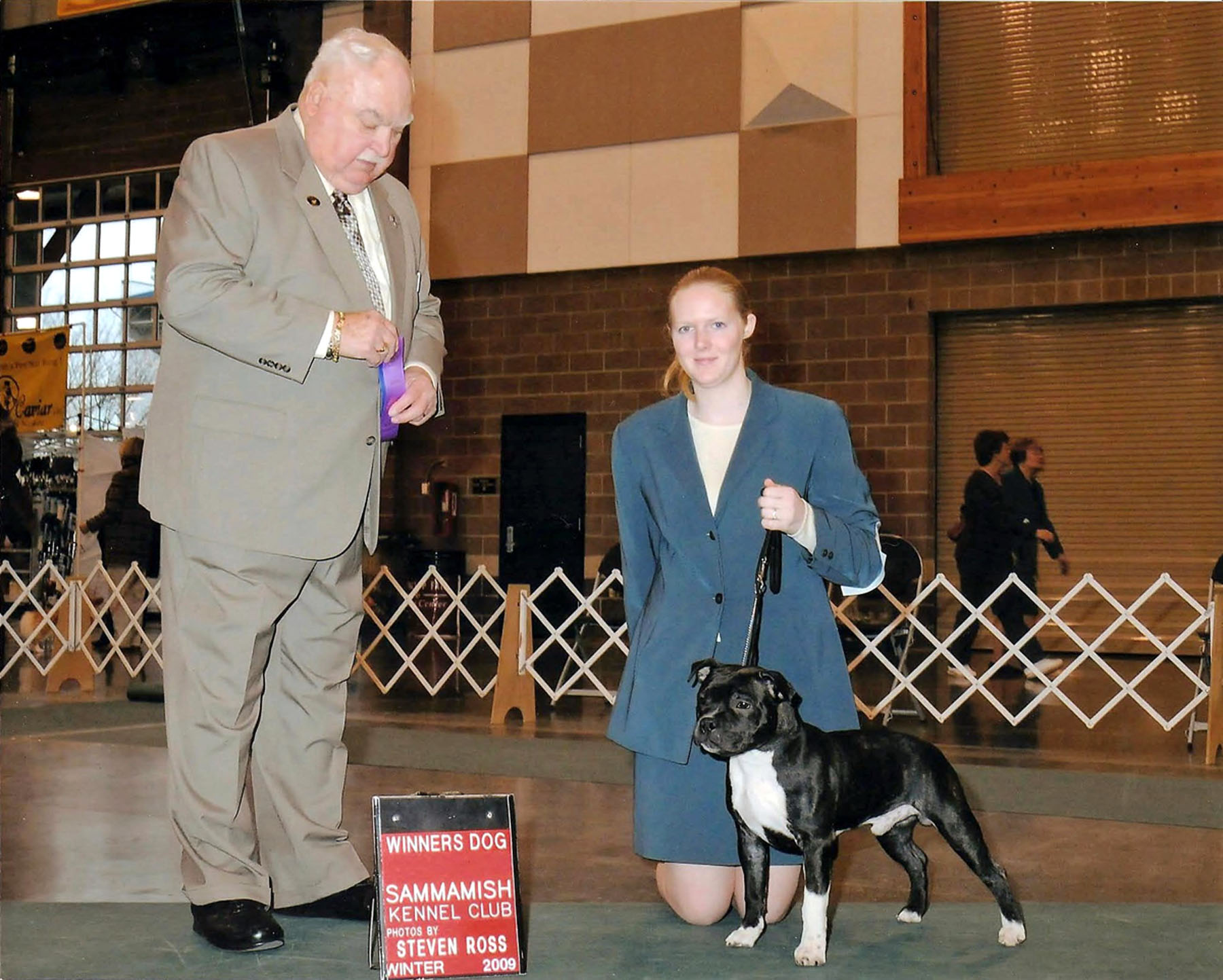 Deuce has been to his first shows with success. He was Winners Dog his first time out at just days after he turned 6 months old!!! Handled expertly by his owner Tina we were very proud breeders.
We are proud to announce that Deuce is now called
Ch Classy Staffys Hot Shot

and we want to thank his owner/handler Tina for making this possible. Congratulations Dustin your boys a man!!!
---
Bonnie and Clyde are the parents of 4 wonderful kids. 1 boy and 3 girls. All are red with white. These puppies are all placed in their new homes.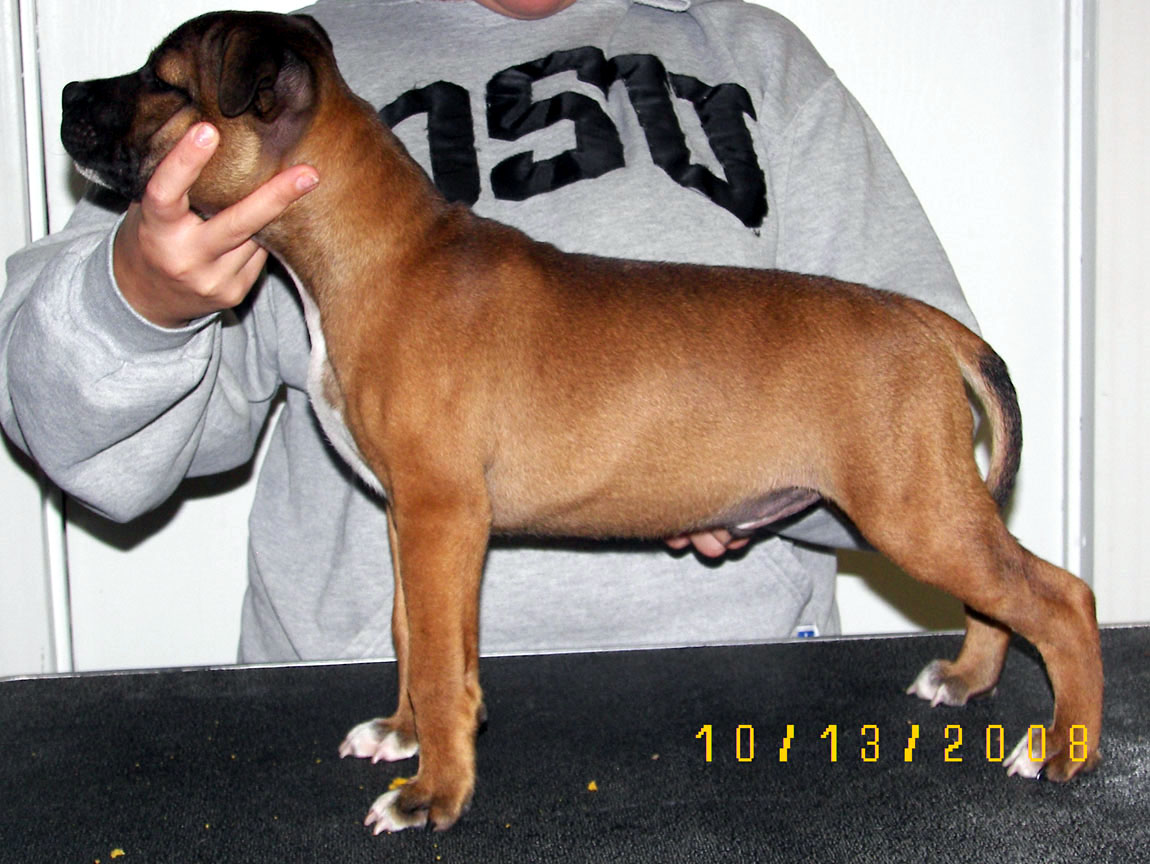 1st is our boy Classy Staffys The Outlaw Gang "Outlaw"
owner Shannon Edinger Outlaw shown here at 12 weeks old
What a thrilling weekend for both the owner/handler as well as us as the breeders. Outlaw won the Sweepstakes and went onto BOW at the Specialty show. Then the following day finished his Championship being the first in this litter to finish. Congrats to his owner/handlers Kerry and Shannon Edinger.
---
OH YES DON'T LET ME FORGET!

My

up and coming new champion. Can't you see her winning already?! Please let me introduce Classy Staffys America's Most Wanted "

Classy

" to her friends and "

Shame

" to all those that know her intimately! Classy is owned in partnership with my pals Mary Gaffney and her handler Dee Dills. Classy will be competing with her brother "Outlaw"and sister "Kopper" in 2009. We are looking forward to watching these three "rebels" knock the sox off the show world. Watch the news to say    "The Outlaw Gang Strikes Again"!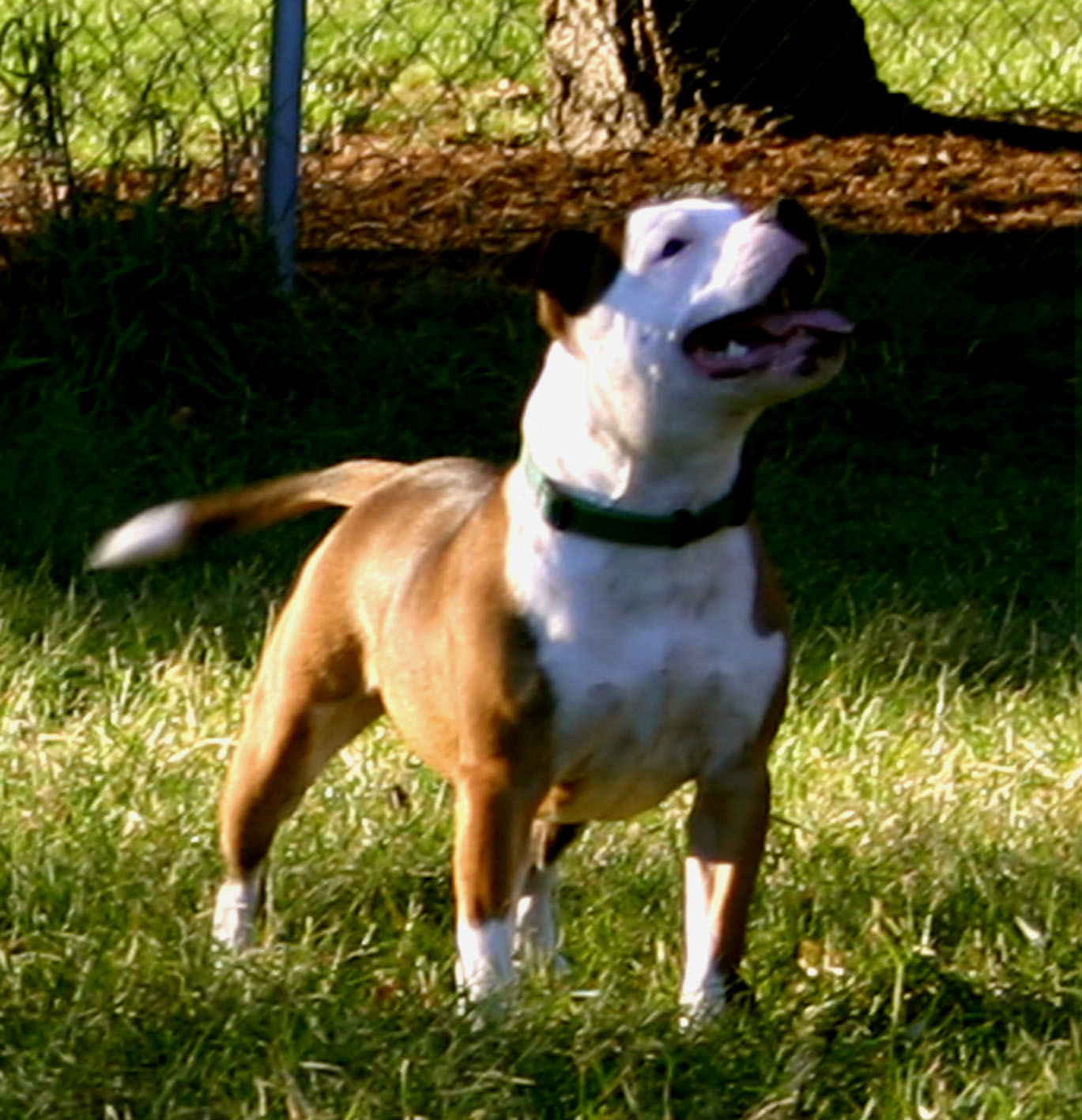 Classy at 6 months old above.
Well that was quick Classy is a champion. She was second in the litter to finish. She is home now maturing nicely and will show off and on from here out. She is a wonderful girl and we look forward to seeing puppies from her in 2011.
---
Patches x Clyde 1st litter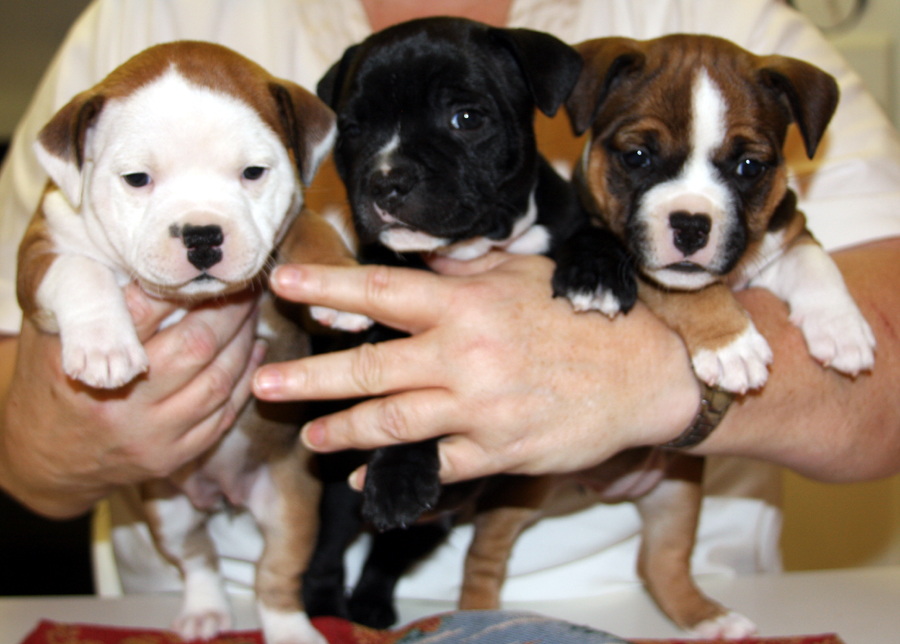 L-R Lilly, Hawk, Leah
Lilly is her call name at home. Her registered name is Classy Staffys I'm Not Just A Pretty Face. But at dog shows she is called Lillybug by her co-owner and handler Dee Dills.  Lilly loves traveling with Dee in the "Fun Bus" aka Dee's van. She is such a happy girl and a clown in the ring. You can hear the crowd laughing when Lilly shows.
      Lilly is now
Ch Classy Staffys I'm Not Just A Pretty Face
!
Leah is her call name while Classy Staffys When I Dream is her registered name. Leah is a show dog but her best role is companion and house member. I am so happy her owners love her so much and allow us the benefit of showing off our beautiful girl.
| | |
| --- | --- |
| | WATCH FOR FINISH PHOTO HERE SOON |
Leah is well on her way to champion status. Her owner/handler Bonnie McIntosh is doing a great job with her. Keep it up girls you are making us proud.
---
                                            My birthday present
Clyde x IRS Born May 29th,2009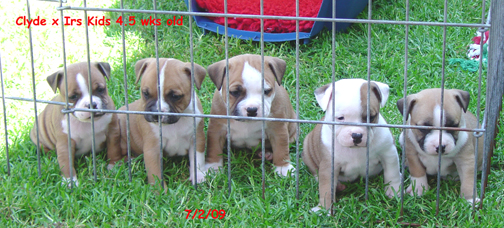 L-R Roxy, Andy, Ford, Eva, Penny
This was such an exciting litter. The puppies were all beautiful and in fact 4 out of 5 are showing as I type. It was the product of meeting of the minds really as everyone involved agreed to this mating. Now on with the photos…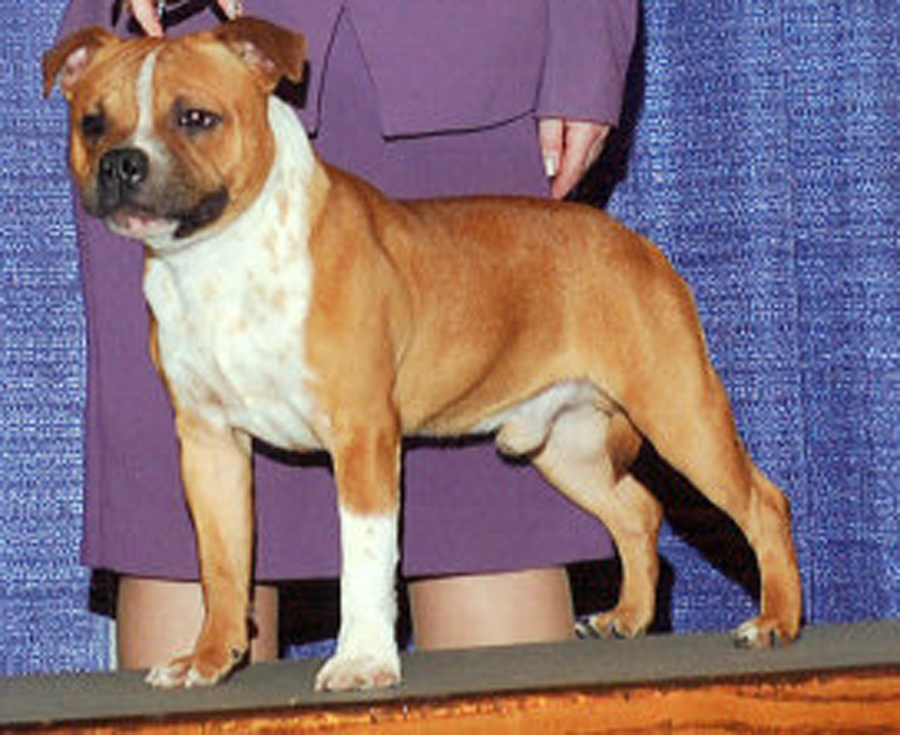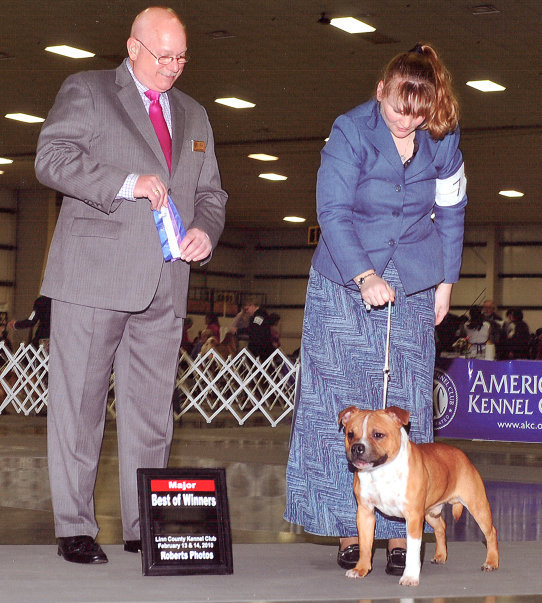 Ch Classy Staffys IRS Tax Reform at Andaneys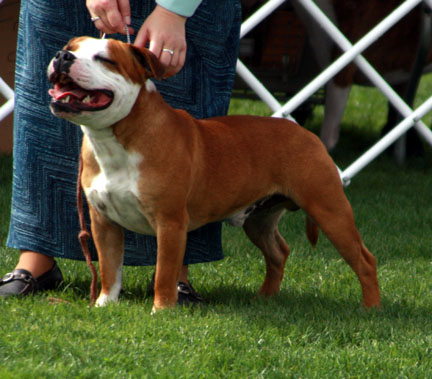 Ch Classy Staffys IRS Tax Man At Andaneys