Classy Staffys Presents
Grand Champion 
Classy Staffys The Outlaw Gang, 
CGC, NAP, RN
Sire:

BISS Ch Classy Staffys Strike Force


Dam:

Ch Classy Staffys Strikes Again




Whelped: 7/21/2008




L2Hga clear by parentage HC, PhPv clear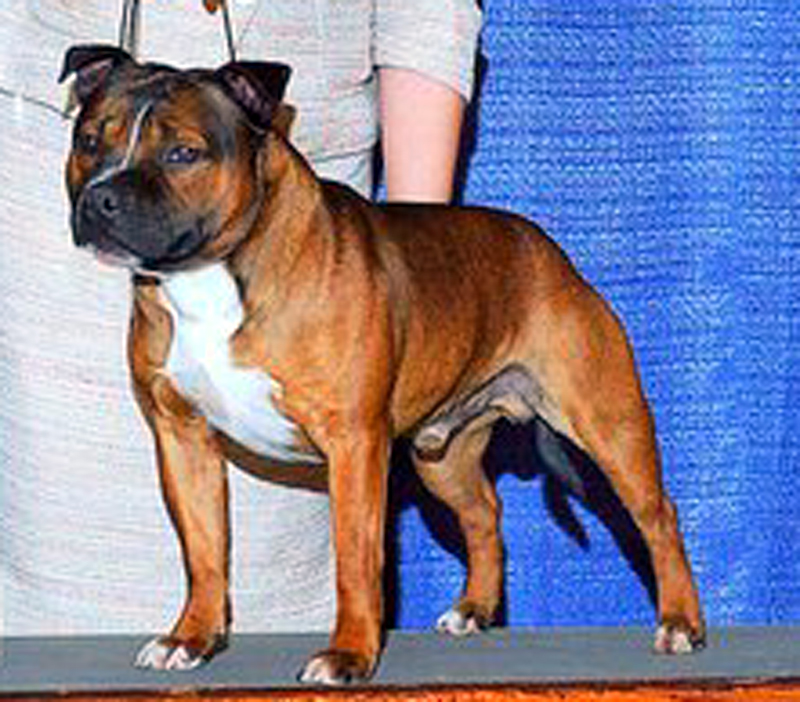 Outlaw is a new champion under the expert guidance of his owner/trainer/handler Shannon Edinger.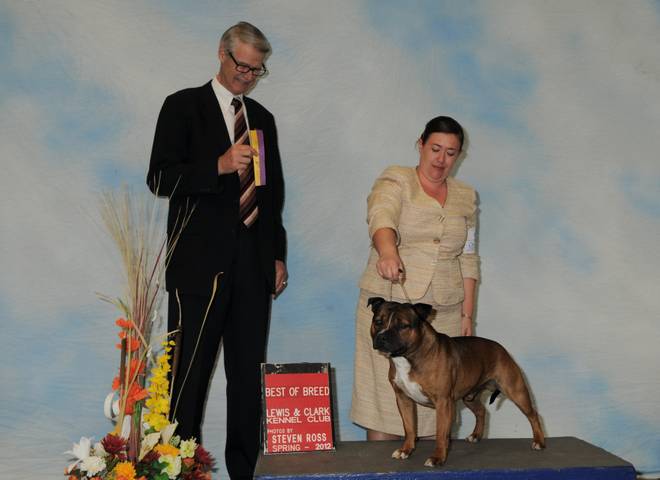 Outlaw with his owner/trainer/handler Shannon Edinger winning BOB under j Jon Cole 4/2012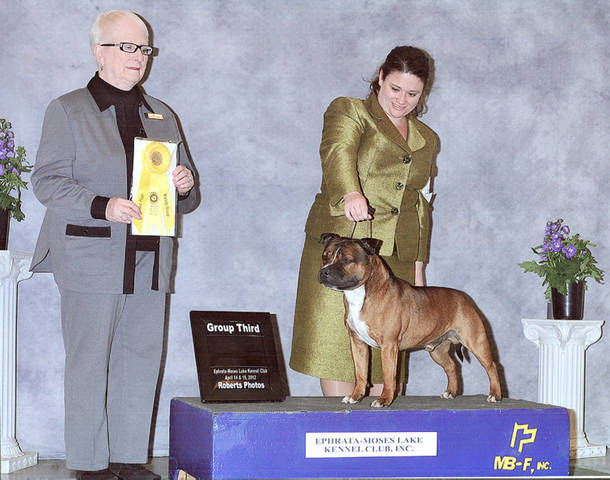 Outlaw Group 3 4/2012 with his co-owner Kerry Edinger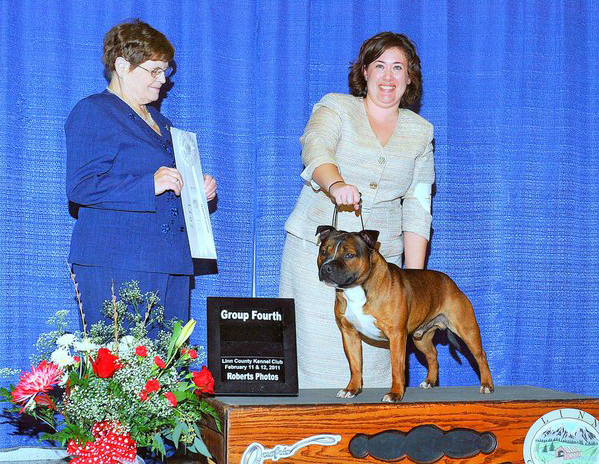 Outlaw winning Group 4 2/2011 handled by Shannon
Achievements:
Outlaw is a full size male. His color is red smut as he has dark guard hairs over his red coat. He has proven that your companion dog can also be your conformation, agility and obedience dog all wrapped in one solid balanced package. Outlaw can be seen running from a conformation ring and going into an agility ring with the enthusiasm of most SBT's. Outlaw has been ranked in Top Dog Status since receiving his championship and qualified for Eukanuba Championships for several years. As I type this Outtie is turning 4 years old and showing no evidence of slowing down. This year he gained his Bronze title of Grand Championship. His competition here in the Pacific Northwest is hot and heavy! Outlaw is multiple Best of Breed winner as well as Group placing dog. He goes into the ring with a smile and does the rest under the excellent guidance of his owner Shannon Edinger and co-owner Kerry Edinger. Coming from Sporting dogs Shannon has found that Outtie can do it all and will.  I look forward to the new puppies produced by Outlaw to be top contenders in the world of champion show dogs. Outlaw available at stud to approved bitches.
Pedigree

Parents

GrandParents

GreatGrandParents

SIRE

 American Champion Classy Staffys Strike Force

 Am Ch Praetocanis Apocalypse Now (SA)

SA Ch Reifra True Courage of Praetorcanis

SA Ch Reifra Jenny-Lee-Ann of Praetorcanis

Am Ch Classy Staffys            Keep Sake

Am/SA Ch Crossbow Final Justice

Am Ch Classy Staffys Warrior Xena

DAM

American Champion  Classy Staffys Strikes Again

Am Ch Praetocanis Apocalypse Now

SA Ch Reifra True Courage of Praetorcanis

SA Ch Reifra Jenny-Lee-Ann of Praetorcanis

Am Ch Classy Staffys Keep Sake

Am/SA Ch Crossbow Final Justice

Am Ch Classy Staffys Warrior Xena